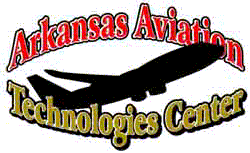 ARKANSAS AVIATION TECHNOLOGIES CENTER
"Providing quality Aviation Maintenance Technician (AMT) training to support the Aviation Industry worldwide."

Our Mission
The goals that represent the significant values and purposes to which AATC is dedicated are the following:
To offer public assurance that AATC provides quality instruction to AMT candidates that facilitates their learning and meets the needs of the labor market.
To provide guidance to AMT candidates for the continual improvement of their educational experience and related activities.
To promote high ethical and educational standards for the AMT career field and AMT workforce development.
To enhance understanding of the role that AMTs serve in the safety and security of the American flying public.
To ensure that the AMT training process validates the achievement of learning and program objectives.

Company Profile
Arkansas Aviation Technologies Center (AATC) is a private not-for-profit organization established by community leaders through an initial grant for Work Force Development from the State of Arkansas but has not and does not receive subsequent and/or continuing public funding. AATC was approved by the Federal Aviation Administration in May of 1999 and is licensed by the Department of Veterans Affairs and the Arkansas State Board of Private Career Education.

Contact Information
Telephone
479-443-2283
FAX
479-443-2266
Postal address
4248 South School Avenue
Fayetteville, Arkansas 72701
Electronic mail
General Information: [email protected]
Webmaster: [email protected]