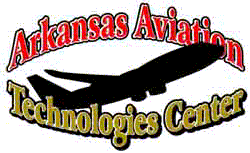 ARKANSAS AVIATION TECHNOLOGIES CENTER
"Providing quality Aviation Maintenance Technician (AMT) training to support the Aviation Industry worldwide."
FOR IMMEDIATE RELEASE

Carol Bennett-Lindsey Scholarship Award Ceremony
Fayetteville, Arkansas
July 2003 –
THE ARKANSAS AVIATION TECHNOLOGIES CENTER IN FAYETTEVILLE WILL HONOR THE LATE CAROL BENNETT-LINDSEY ON FRIDAY, JULY 11, 2003 AT 2PM.
THREE AVIATION MAINTENANCE TECHNICIAN STUDENTS WILL BE AWARDED $500 SCHOLARSHIPS FROM THE CAROL BENNETT-LINDSEY MEMORIAL SCHOLARSHIP FUND.
ALL ARE INVITED FOR A TIME OF FELLOWSHIP. REFLECTION, STUDENT RECOGNITION AND REMEMBERING CAROL. LIGHT REFRESHMENTS WILL BE SERVED FOLLOWING THE CEREMONY.
 MR. DAVID BOWMAN, DIRECTOR OF AVIATION, ATNORTHWEST ARKANSAS COMMUNITY COLLEGE (NWACC) WILL BE OUR KEY-NOTE SPEAKER. THE CEREMONY WILL BE HELD AT OUR HANGAR LOCATED AT 4248 SOUTH SCHOOL AVE. THIS FACILITY IS AT FAYETTEVILLE'S DRAKE FIELD ON ROUTE 71 JUST NORTH OF GREENLAND.
For More Information Contact:
Arkansas Aviation Technologies Center
4248 South School Avenue
Tel: 479-443-2283
FAX: 479-443-2266
Internet: [email protected]