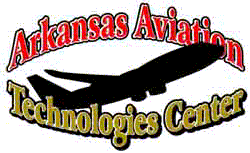 ARKANSAS AVIATION TECHNOLOGIES CENTER
"Providing quality Aviation Maintenance Technician (AMT) training to support the Aviation Industry worldwide."

FOR IMMEDIATE RELEASE

Arkansas Aviation Technologies Center Establishes New Web Presence
Fayetteville, Arkansas
January 12th, 2004 — Arkansas Aviation Technologies Center has rolled out its new website.  Visitors to the  site will see an all new look with faster loading pages and more up-to-date information about its training offerings.   Highlights include:
Program information
Student loan programs
News about students and the school
Links to interesting Aviation Websites
And more!

For More Information Contact:
Arkansas Aviation Technologies Center
4248 South School Avenue
Tel: 479-443-2283
FAX: 479-443-2266
Internet: [email protected]