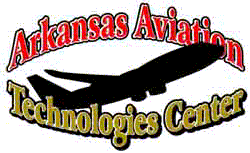 ARKANSAS AVIATION TECHNOLOGIES CENTER
"Providing quality Aviation Maintenance Technician (AMT) training to support the Aviation Industry worldwide."

Aviation Maintenance Technician Training prepares individuals for entry into the aviation workforce.  Federally Certified AMTs perform in a high tech profession providing a critical service to our nation in keeping all types of aircraft safe to fly.  
The total training time required to complete the program is 1962 hours.
Innovative Scheduling and Testing
AATC's method of scheduling (open entry/open exit) is unique among AMT Schools in the U.S. It allows us to start classes more often and with fewer students so you can reach your career goal quicker (16 months).
You will test-as-you-go. We have an exemption from the regulations so our students get the FAA required practical tests out of way while they attend classes. FAA written tests come after you complete each section so you don't have to wait until the end to cram for these all important exams.
You don't have to wait until you complete the entire 16 month course to get your airman certificate. When you complete the General Section and either Airframe or Powerplant you can apply for your airman certificate. Then go to work as an AMT while you complete the added rating.
We grant credit for previous aviation related instruction and experience both military and civilian. Certain Federal Regulations apply.
Key Benefits
The Aviation Maintenance Technician Certificate is globally recognized.
Skills are in demand.
Skills transfer to other occupations.
Capabilities
Arkansas Aviation Technologies Center is FAA Approved to operate as an Aviation Maintenance Technician School under Part 147 of the Federal Aviation Regulations (Air Agency Certificate #N1KT082K).   The School and its Curriculum are closely regulated by the FAA and provides the following:
General Subjects
General Subjects are the core of AMT training and cover subjects related to aircraft and aircraft technicians.
Airframe Subjects
Airframe Subjects cover a wide range of knowledge areas related to the aircraft airframe.
Powerplant Subjects
Powerplant Subjects cover a wide range of knowledge areas related to the aircraft engines.

Information Request Form
Select the items that apply, and then let us know how to contact you.