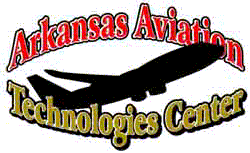 ARKANSAS AVIATION TECHNOLOGIES CENTER
"Providing quality Aviation Maintenance Technician (AMT) training to support the Aviation Industry worldwide."

FOR IMMEDIATE RELEASE

ARKANSAS AVIATION TECHNOLOGIES CENTER TO RECEIVE DONATED JET FROM FEDEX
A Boeing 727 Will Help Train Aircraft Maintenance Technician Students
Fayetteville, Arkansas
March 21st, 2003 —
(Boeing 727, N135FE) — A recently retired FedEx Express aircraft will find a new home at Arkansas Aviation Technologies Center (AATC).
FedEx Express, the world's largest express transportation company, has donated a Boeing 727-100 freighter to provide hands-on educational experiences for the school's Aircraft Maintenance Technician program.
Making its final flight, the 727 will arrive at Fayetteville Municipal Airport on March 21st, said Michael Kratchmer, who called the gift "a classroom with wings." A 2- to 3-member crew will fly the plane to Fayetteville Municipal Airport.
Before its final flight to Fayetteville, the aircraft (N135FE) will have provided nearly 23 years of service to FedEx transporting packages to destinations throughout the U.S.
The donation of the 727 to AATC creates an opportunity for students in their airframe and powerplant program to have the advantage of hands-on, real-world experience in aviation maintenance. These aspiring aircraft maintenance technicians, who typically only receive college-level training on small aircraft, will benefit greatly from exposure to complex aircraft systems training. Students will have the opportunity to operate and maintain the aircraft's engines, APU, electrical systems and hydraulic components.
"FedEx Express is proud of its commitment to the communities we serve and in which our employees live and work. The donation of this FedEx 727 is just one example of the many ways FedEx supports educational endeavors," said David Sutton, assistant general manager, FedEx Aircraft Acquisitions and Sales. "We firmly believe that colleges and programs, such as the one at Arkansas Aviation Tech Center, are producing outstanding graduates who will soon become the work force of tomorrow."
            For more information about the Aviation Maintenance Technician Program at AATC, contact Timothy McClurg, Manager of Student Services or Paula Carollo, Financial Aid Administrator.

For More Information Contact:
Arkansas Aviation Technologies Center
4248 South School Avenue
Tel: 479-443-2283
FAX: 479-443-2266
Internet: [email protected]