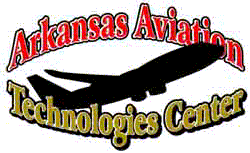 ARKANSAS AVIATION TECHNOLOGIES CENTER
"Providing quality Aviation Maintenance Technician (AMT) training to support the Aviation Industry worldwide."

Northwest Arkansas Community College gives credit for AATC Students.
Students wishing to train for FAA certification and also receive a degree can now do so. AATC is in partnership with the Northwest Arkansas Community College in Bentonville, AR, which offers two different Associate Degree programs in Aviation Maintenance Technology. This program offers students the opportunity to receive college credit for the technical training received at AATC and to continue their general education leading to a degree with the Community College. An Associate of Applied Science in Aviation Technology or an Associate of Science in Aviation Science degree is available. These degrees are the culmination of more than a year of planning and preparation involving the leadership from the Community College, industry, the regional airport, the community and of course AATC.
In addition, Henderson State University has an undergraduate degree program which awards 62 semester hour credits to AATC graduates with FAA Certification toward an undergraduate degree in Aviation Maintenance Management and the NWACC Associate of Science in Aviation Science degree fully articulates with the Henderson State program.
Key Benefits
Transferable college credit
Greater individual value to potential employers
Higher paying jobs

Information Request Form
Select the items that apply, and then let us know how to contact you.