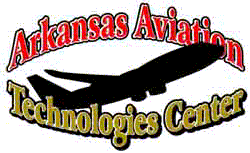 ARKANSAS AVIATION TECHNOLOGIES CENTER
"Providing quality Aviation Maintenance Technician (AMT) training to support the Aviation Industry worldwide."

TUITION PAYMENT OPTIONS AT ARKANSAS AVIATION TECH CENTER
1. TOTAL OR MONTHLY CASH PAYMENT PLANS AVAILABLE
2.  FEDERAL FINANCIAL AID PROGRAMS (Title IV)
Repayment begins 6 months after graduation.
Pell grants up to $8,100 ($4,050 per award year).
Subsidized/Unsubsidized Stafford loans with the lowest interest rate in 37 years.
Variable interest rate currently 2.77% in school, 3.37% during repayment. Cap 8.25%.
Qualifying for financial aid is easy. We can also assist you in completing paperwork or you can apply at fafsa.ed.gov, school code 036883.
3. KEY BANK LOANS
Career Loans: Interest rates and fees are based on credit. Loan amounts up to $18,000. 1 year payback deferment available. 15 year payback plan available
Achiever Loans: Need good credit. Interest rate is based on credit history and co-signer availability. Loan amounts equal to cost of education minus financial aid received. 20 year payback plan available.
4. VETERANS EDUCATIONAL ASSISTANCE
VA authorized program.
AATC can certify your enrollment with VA.
Qualified veterans may use educational benefits to offset tuition cost.
Application to VA and certificate of eligibility is required.
Amount of benefit is based on individual circumstances.
5. SCHOLARSHIP PROGRAMS
Carol Bennett Lindsey Memorial Scholarships – $500 awarded every July to students who qualify.
Aviation Technician Assistance Fund – $1500 awarded quarterly to students who qualify.